Chalk Talks: Episode 5 - Towner Eastbourne
Chalk Talks is a business podcast presented by Switchplane's Head of Marketing, Garry James, which tells stories about businesses and organisations in the south east from a range of different sectors, how they have been affected by COVID-19, and their inevitable shift to doing more online. The fifth episode features Joe Hill, Director at Towner Eastbourne.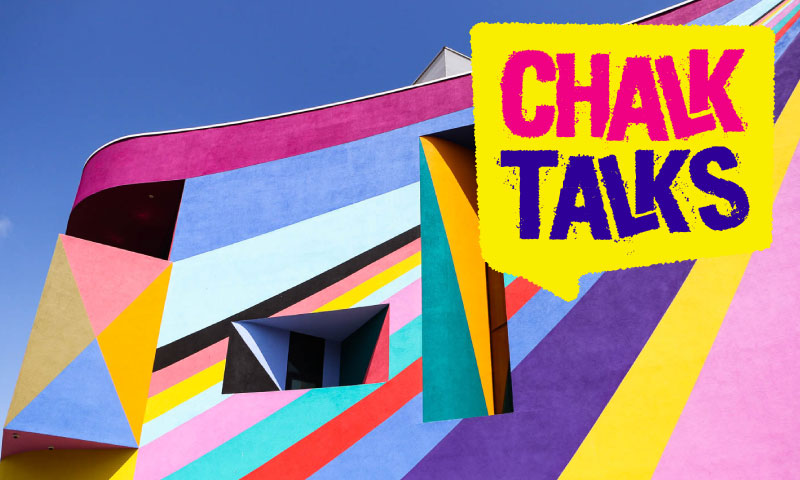 Background:
Joe Hill, Director at Towner Eastbourne, hails from West Yorkshire. He trained as a fine artist, but quickly realised that he did not want to work in a home studio alone all day. After interning at London galleries, he worked his way up to become a curator, then took a position at a council-run gallery in Southend-on-Sea. Joe was involved in a culture regeneration project there, looking at the modern heritage of Essex and showcasing what the county offers to international visitors. The gallery had international success and visitor numbers grew exponentially. In 2017, Joe spotted an opportunity at Towner Eastbourne in 2017 to transfer what he had learned to a larger institution, pushing what a regional gallery can do and offer.
Joe joined the team in March 2018 and looked at what needed to be done. The financial sphere was changing, following cuts: Local council and Arts Council investments from when the gallery opened in 2009 were not going to be there in the near future, so Joe needed to create a sustainable business model as a priority, as well as an organisational vision. The old mission and vision were scrapped and boiled down to the top line vision of "Transforming lives and communities through the arts". They realised they wanted to embed the gallery into Eastbourne, creating a space that residents could feel proud of and use in different ways. The gallery looked at how to grow the resource and get the arts space to take on roles in our community, becoming part of our lives, passing on health and wellbeing benefits, and progressing ideas.
To support this, the gallery was renamed from Towner Art Gallery to Towner Eastbourne. Cosmetic changes were made to the building to make it more welcoming for visitors, including an open competition for artists to decorate the outside of the building. A cinema and cafe were added to make it less scary for visitors to go and visit, but with the intention for art to become the centre of the new space. New collaborators were invited in to curate the town-owned collection, most recently Caroline Lucas, Brighton's Green Party MP who focused on Sussex landscapes and the impact on the environment relating to climate change.
With 45 employed staff and a range of volunteers and freelancers, Towner Eastbourne generates 50% of its own income with grants being received from the local council and Arts Council. Much of their income comes from philanthropy and generous visitor donations, but also from the commercial elements like the cafe and cinema - plus the gallery is diversifying to explore larger scale events like fairs and art car boot sales.
2019 was a great year for Towner Eastbourne with record audience figures, which was surprising given the amount of challenging and contemporary art on display - but people embraced it.
Like our aims for Chalk, Towner Eastbourne wanted to change the perception of the town. To do this, they took the problematic, negative perception of the town being "dead" - which Joe himself experienced when moving to Eastbourne - and flipped it to become a vibrant "Alive" campaign. They worked with a South African artist, younger artists, and those of all ages, and added the dramatic coloured artwork on the outside of the building to show how the gallery could do things on a larger scale. This has received national press coverage and the gallery came first in the worldwide Wallpaper Magazine for Public Art Intervention in 2019.
Visitors come from far and wide to visit Towner Eastbourne: one third from the town itself, one third from within 50 miles of Eastbourne, and the remainder from the rest of the UK and beyond. 2019 saw a drop in average visitor age as well as a spike in visitors from Hastings and Brighton, due to Towner Eastbourne's 10th anniversary celebration. It had been hoped to continue this momentum into 2020 with the Towner International exhibition, showcasing Sussex artists alongside international ones, including a Mexican artist creating a new chalk drawing on the South Downs.
Key problems faced as a result of the coronavirus pandemic:
All events had to be put on pause. Towner Eastbourne closed in March 2020, ahead of the official government lockdown. There had been a lot of questions over whether the gallery would be forced to close or allowed to stay open. Towner Eastbourne looked to its peers at Charleston, the De La Warr Pavilion, and Hastings Contemporary, and they decided to shut in solidarity on the same day in order to guarantee visitor safety.
Naturally there were then concerns about what to do about their team, particularly before furlough was announced, but also about income, how much money would be lost, and how best to deal with - and survive - the crisis. They found themselves in a limbo state, with all staff at home and trying to make it work on Teams. The Towner communications team was putting out messages to the public and responding to press questions, but remained calm.
Towner Eastbourne paid the artists and freelancers for any projects that had been committed to, as they rely on the income.
Changes made within the business throughout COVID-19:
Throughout lockdown, Towner Eastbourne wanted to do something tangible, aside from the workshops they held online and via social media.
They wanted to find a way to help vulnerable people in the town, so the gallery put together packs of art materials, including pencils and sketchbooks, and distributed over 1000 of these through the Foodbank and a refugee support group. Whilst people need food, they also need more in life, so the packs came to mind after Towner Eastbourne thought about how they could help people in lockdown. Helping people to draw and escape was important to them.
What does the future look like?
With reopening now scheduled (post-podcast recording) for 22nd July, Towner Eastbourne are being transparent as possible about the safety measures they are taking, and the risk assessment will be signed off by the Arts Council.
For artists, it's a hugely worrying time. The support that freelancers have received from the government has been limited, so Towner Eastbourne would like to support local artists. After reopening, they intend to go ahead with the exhibitions postponed from earlier in the year and will announce a large scale project too.
To listen to Episode 4 of Chalk Talks and hear more from Joe Hill at the Towner Eastbourne, visit Anchor FM, or find Chalk Talks via your usual podcast platforms.