Chalk Talks S2 Ep2 - Recruitment with Martin Ellis
Season 2 of Chalk Talks focuses on conversations with business owners and public officials about different aspects of business. Episode 2 of this series features our second guest, Martin Ellis of Recruitment South East.
In this episode, we speak to Martin about his experience in headhunting and recruitment in our town and region, and most importantly, how recruitment works during a pandemic.
You can listen to the episode now in full via Anchor FM, Apple Podcasts, or Spotify and have a quick skim of the highlights below.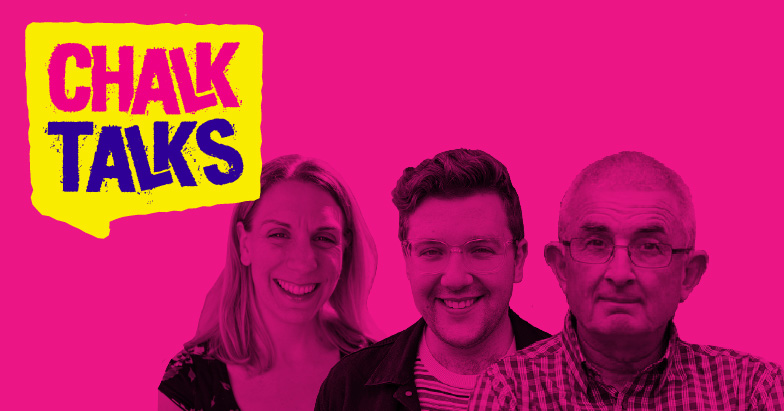 Background
Martin has been a headhunter and key role recruiter for difficult jobs that are hard to fill. He works in a broad range of sectors, including business services. With the changes coronavirus has brought about, life over the past year has become more fluid and interesting.
Changes
Pre-COVID-19, Martin was finding that there were too few candidates and it was hard to find roles for people; it was a candidate's market. But then it almost instantly turned on its head in March/April 2019.
The job market in East Sussex at present is fluid, but overall, not very good. Clients have pulled back or stopped plans, unless they're in the digital sector, as lots of companies are going online to sell services.
During the first stages of the pandemic, clients and companies were holding on, waiting for more news, but people are now beginning to see their way out.
What kinds of companies are still looking to recruit?
Primarily, digital services. One of Martin's clients in particular is looking to take people on quickly to help fill the demand for Amazon ads. Most outfits with a digital/IT background are busier than almost anyone else.
How are people changing their recruitment processes?
In general, there aren't huge amounts of changes - people are doing it how they did before. However, Martin notes that if an employer places an ad now, they receive hundreds of applications. He gives the example of one of his ads which had 67 applicants in just four hours. But, unfortunately, none of them were qualified for the job, so he had to shut the ad down: there's a lot of desperation in the candidate market, especially as it's so easy to click and apply for many jobs. It therefore is taking longer than usual to sift through applications.
Advice for candidates
Stop what you're doing currently - you're flooding the hiring manager's inbox and will receive lots of 'no' emails in return.
Target what you're doing. Show ambition and stand out from the crowd.
Be clear about what you want - or at least, what you don't want.
Be clear about who your audience is. Your CV is a marketing document, not a history lesson.
Find out who placed the ad and connect with them on LinkedIn. Ask for a chat.
Consider your previous expertise and see how it can be considered under different eyes. If you were previously an Events Specialist? That means you're probably a great Project Manager.
If you have a couple of skills, highlight them. Employers are looking for what they need now, but also with an eye to what might change.
How has coronavirus impacted the recruitment process?
There's a virtual nature to recruitment these days and people are taking baby steps. Whilst Martin has been conducting video interviews for the past 10 years, they've hardly been used by employers.
His clients are also asking for short videos from their candidates, on a subject of their choosing. This gives more insight into the candidate and allows discretionary effort to stand out.
However, for certain roles, it's still likely to be a mix of old and new technologies. Employers will still want to meet the candidates in-person.
What are the expectations for the local recruitment market in 2021?
There'll be a slow recovery. Hospitality will come back, but there's still a question over how high streets and retail will change. Construction is a good sector to be in.
Within Chalk Eastbourne, we've found it difficult to find talent locally, competing against London and Brighton. Will that change as more people work virtually?
Yes, it's quite likely - people are already moving out of London and driving the housing market, also thanks to the tax holiday at the moment. Locate East Sussex is also helping companies moving out of London.
But there are some key questions for employers to consider. Will remote working become a permanent part of life? How will you manage people remotely? How do you avoid an "us vs them" situation when production staff need to be onsite but administrators and management can work remotely? What happens when working from home doesn't suit some of your staff? And how are you as an employer dealing with those issues?
Top tips to take away - Advice for candidates employers in 2021
Candidates: Be very clear about the role that you want. Think about the future and what might change. Put time in your diary to work on your CV and applications, and double it.
Employers: If you're writing a job ad, write it specifically for your audience. Think about the people you're trying to (and not trying to) attract. Think about the stages of your recruitment process, do more sifting upfront, and have video and phone conversations. Don't just rely on CVs as you're likely to be overwhelmed. Set aside enough time to deal with your applications.
Everyone: If shaking a hand, use hand sanitiser!