Chalk Talks S2 Ep3 - Talking Manufacturing with Paul Cuttell
Season 2 of Chalk Talks focuses on conversations with business owners and public officials about different aspects of business. Episode 3 of this series features our third guest, Paul Cuttell of Wright Flow Technologies.
Wright Flow Technologies are an Eastbourne-based company who manufacture pumps for liquids and ultra hygienic products. We speak to Paul about Eastbourne's pump history, what impact COVID-19 has had on their business, and more.
You can listen to the episode now in full via Anchor FM, Apple Podcasts, or Spotify and have a quick skim of the highlights below.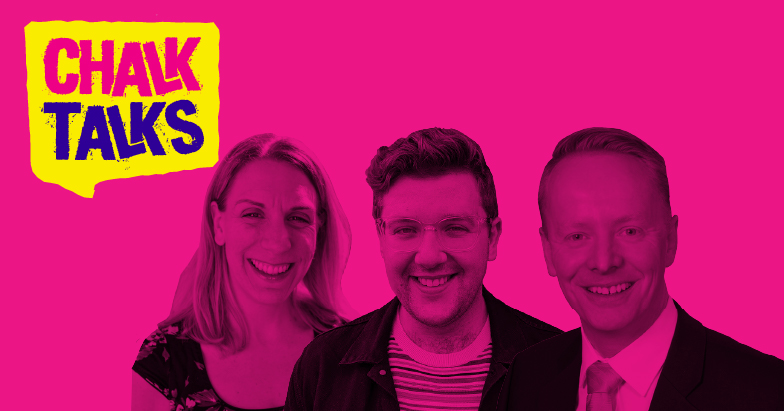 Background
Wright Flow Technologies make pumps that move liquids for factories all over the world. They particularly specialise in hygienic or clean liquids, like chocolate and sauces, all the way through to liquids for medical usage like vaccines and injectables. They manufacture the pump that moves liquids around these factories.
Wright Flow make a lot of products for use in chocolate factories like Cadbury's and Nestlé. Their pumps go into factories and facilities all around the UK, Europe, India, and the US, and they have partners in each country to help deal with the language, local customs, and on site issues.
One of their key accounts is with GlaxoSmithKline for Ventolin: Wright Flow pumps move Ventolin around in its neatest form. There are only 10-12 factories globally that have Wright Flow's pumps in to deal with the Salbutamol that asthmatics use on a regular basis.
A Wright Flow pump typically lasts for a very long time: these are mechanical pumps, so as long as you can maintain them, they can be a bit like Trigger's Broom! There are pumps that were produced 40 years ago by Wright Flow that are still in operation today, but typically you can expect 10-20 years' service life for a pump. It does depend on what types of liquids the pump is moving; sugars and syrups with abrasive crystals can cause wear on the pumps and some have a very hard life.
So what's the history of pumps in Eastbourne?
Eastbourne has a strong history of pump manufacturing. Nothing to do with any particular geographical benefit, but urban legend has it that it all started with two brothers. The Howard brothers started producing a particular type of pump in Eastbourne and ended up having a falling out, as brothers do! One went to start his own company, HMD, which is still in the town today. The original company was taken over by APV and started a business called APV Howard.
Various sister companies and competing companies sprang up and spread around Eastbourne, including Johnson Pump, which later became Wright Flow. At one point there were probably 6-8 manufacturers of pumps in an 8-10 mile radius, which is a little unusual. Ultimately, a supply chain then built up around the pump manufacturers so that all of these sites were local to one another, hence bringing about Eastbourne's reputation for pump manufacturing.
How has the pandemic affected your pump business?
As a manufacturing company serving markets relating to food and medication, Wright Flow is fairly stable when it comes to recession and COVID-19.
Their market has switched from being mainly food to more pharmaceutical customers, as there have been lots of developments in the medical world to accelerate the vaccine. Customers they have worked with previously for the H1N1 virus have come to them to ask for products involved in the COVID-19 vaccine, as they are approved suppliers and can be ready to go very quickly. This means they've been working on pumps for the COVID-19 vaccine and have shipped multiple pumps to the companies leading the race in vaccine production.
In terms of fulfilling demand, Wright Flow were concerned about business continuity last March when we didn't know much about COVID-19, the vaccine, and how that would affect the business, but they made immediate steps to ensure business preservation. Everyone who could work from home did so, and those on site in the factory were split into two shifts with sanitisation time between those shifts; the theory being that if one person caught coronavirus on a shift and took the team down, the other half of the team could keep the business going. It was hard to start with, but once settled, further government changes didn't really affect them as everything was implemented and stable.
Wright Flow spoke to their supply chain early on and encouraged them to implement similar systems, gave them visibility over their demands, and increased their inventory to give the supply chain more reassurance. Most parts come from the UK, but some parts can come from as far afield as Sweden, India and China, although more local backup suppliers are in place should there be supply chain issues.
Productivity has worked well for them, despite some down time for sanitation between shifts. The biggest issue they've faced is with communication and keeping all teams connected, which has been more of a challenge. Lots of the team have really appreciated coming to work and they understand it's mentally tough for those working from home.
What have you learnt from the challenges over the past year?
Firstly, it's better to do something rather than nothing. Making steps towards changes, i.e. with split shifts and sanitisation, was important - even if the results weren't perfect. Those who waited and planned for perfection seemed to have more problems.
Secondly, Paul's learnt from the team that if everyone has clear goals of what they need to achieve during a shift, they're more likely to achieve it. Everyone was doing their jobs properly before, but having a specific focus and goal really helps.
Finally, Paul didn't expect working remotely to affect people as much as it has. Over such a sustained period of time, it's been hard for people to connect, communicate and understand what's going on with the business and in the factory.
It's been fantastic for us to learn how Wright Flow's pumps, created here in Eastbourne, are behind some of our most common everyday products around the world. Listen to the full episode via Anchor FM, Apple Podcasts, or Spotify.