Chalk Newsletter: January 2021
Happy New Year from us all at Chalk! Exciting news below...

Chalk Talks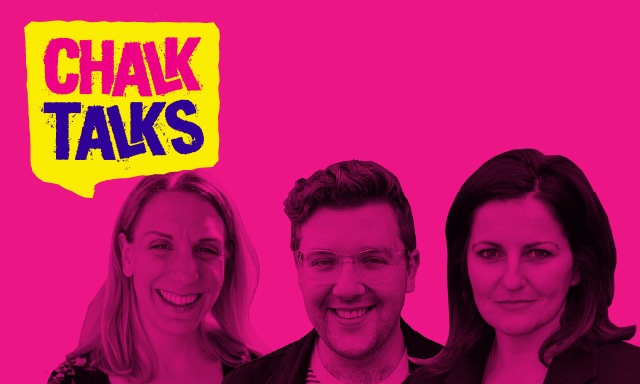 Our second series of Chalk Talks is out now!
Our first episode puts our local MP, Caroline Ansell, under the spotlight in our podcast focusing on different industries as well as all things digital, topical, and relevant to our town.
The second episode, out on Friday 29th January, focuses on changes to recruitment during the pandemic and stars Martin Ellis from Recruitment South East.
Further episodes will be released every Friday for the next month.
Coming soon:
Starting up a new business during the pandemic, with guests Nikki Elliott-Taylor from Hope and Graze and Abel Dos Santos from All Things Analogue
Mike Watson from Business South East
Paul Cuttell from Wright Flow Technologies
Listen and subscribe now on Apple Podcasts or Spotify.

FEATURED PROFILE
This month, to tie in with the support for businesses theme, we spoke to Martin Searle, Development Manager for Sussex at the Federation of Small Businesses (FSB).

The Federation of Small Businesses - what's it all about?
The FSB has 160,000 members UK-wide, with roughly 30 field managers, who have similar roles to Martin. In Sussex, there are around 6500 members, ranging from self-employed and micro businesses up to small to medium-sized businesses. Many of the most active of the members are in the digital sector.
Martin's role covers:
Managing an extensive events programme
Lots of lobbying and campaigning for business support
Media work with press releases and social media
Supporting members and signposting them to useful information.
The FSB, along with its staff, also has a number of volunteers who champion small businesses and represent different areas.
What are the benefits to being an FSB member?
There are various benefits to being part of the FSB, including:
Free legal support by phone
HR support
Plenty of useful documentation online in the Resource Hub, including information on contracts, GDPR, Health and Safety
Free business banking with Co-op, including access to Bounce Back Loans
Free events, where members can speak and have a profile
Lobbying on members' behalves, including a policy team in London to speak to ministers
Representation at local level, working with councils and Chambers to feed into their plans
Participation in the Big Voice survey, where 10,000 members submit their thoughts to help shape their FSB representation.
The FSB are currently running a new "We've Got Your Back" campaign, making sure small businesses know they are there to support them. Key to this is the lobbying for more business support packages, similar to those in 2020.
What are the benefits to working in Eastbourne, Hastings, and the South East in general?
The primary benefit is lifestyle, with such proximity to the coast and beach, but also to the South Downs, High Weald, Hastings Country Park, and Romney Marsh.
We're also really close to key centres like Brighton, Gatwick, London, Ashford International, and the ports, for easy access to the EU. We're in the thick of things, but also in a beautiful place!
The cost of living is also a blessing - the house prices and rents are quite a bit cheaper than Surrey and West Sussex, so it's relatively low cost for the South East.
If you'd like your company featured in this section, please click here to book in a chat!

Events
TALKING LOUD
The Towner Eastbourne and the De La Warr Pavilion are delivering a new series of talks with leading creative voices. These sessions are part of the South East Creatives programme and aim to support those in the creative, cultural and digital sectors by giving them insights and inspiration to take their own business or practice forward.
Michelle Ogundehin in conversation with Corinne Julius
Thursday 11 February, 2pm, free.
Internationally-renowned interiors and style writer, author, consultant and TV presenter Michelle Ogundehin will discuss her career and practice, philosophy on the link between our homes and our wellbeing and the impact of the pandemic and how businesses can adapt for the future.
Artists Helen Cammock and Tai Shani
Thursday 18 February, 2pm, free.
Helen Cammock and Tai Shani – who jointly won the Turner Prize in 2019 with Oscar Murillo and Laurence Abu Hamdan – will discuss their breadth of experience as visual artists, including developing and maintaining their practice in the current climate and activating collaborations with, and supporting peer networks.
Giles Smith, Assemble
Thursday 25 February, 2pm, free.
Giles Smith, a founding member of Assemble, will discuss the award-winning architecture, design and art collective's origins, ethos and evolution, their ongoing Sugarhouse Studios project to provide affordable creative workspace which has been involved in the development of Bexhill Creative Workspace and his perspective on the pandemic.
SOCIETY > TECH | THE POLITICS OF UNCERTAINTY
Thursday 4 February, 5 - 6pm, free.
With a better social understanding of people and their real, active experiences, could the digital sector create more positive technologies? Andy Stirling from University of Sussex and Natalie Burns from UnitedUs lead a roundtable discussion with digital entrepreneurs and academics.
DEVELOPERWEEK HACKATHON
8-18 February.
Join the world's largest virtual hackathon! With 600+ participants regularly attending, the international developer community is invited to converge virtually for the DeveloperWeek 2021 hackathon.

ONE LAST THING...
Remember - we'd love to include news and contributions from all of our subscribers. Drop us a line!