Chalk Newsletter: June 2021
Summer is here and working from Eastbourne makes total sense. Blue skies, fresh sea breezes, lunchtime or after work beach trips. What's not to love? 🌞
Welcome to our new subscribers this month - if you would like you/your company to appear in a future newsletter as a featured profile, or if you have any news for us to share, please drop us a line.
As always, feel free to share this content with friends, colleagues, and students who may be interested.

SHOUT OUT
Custom software builders Switchplane are on the lookout for front end and back end web developers to join their friendly remote team. If you enjoy solving problems and working on web software and app development projects for clients and SaaS, check out Switchplane's careers page for more details (or share with a friend).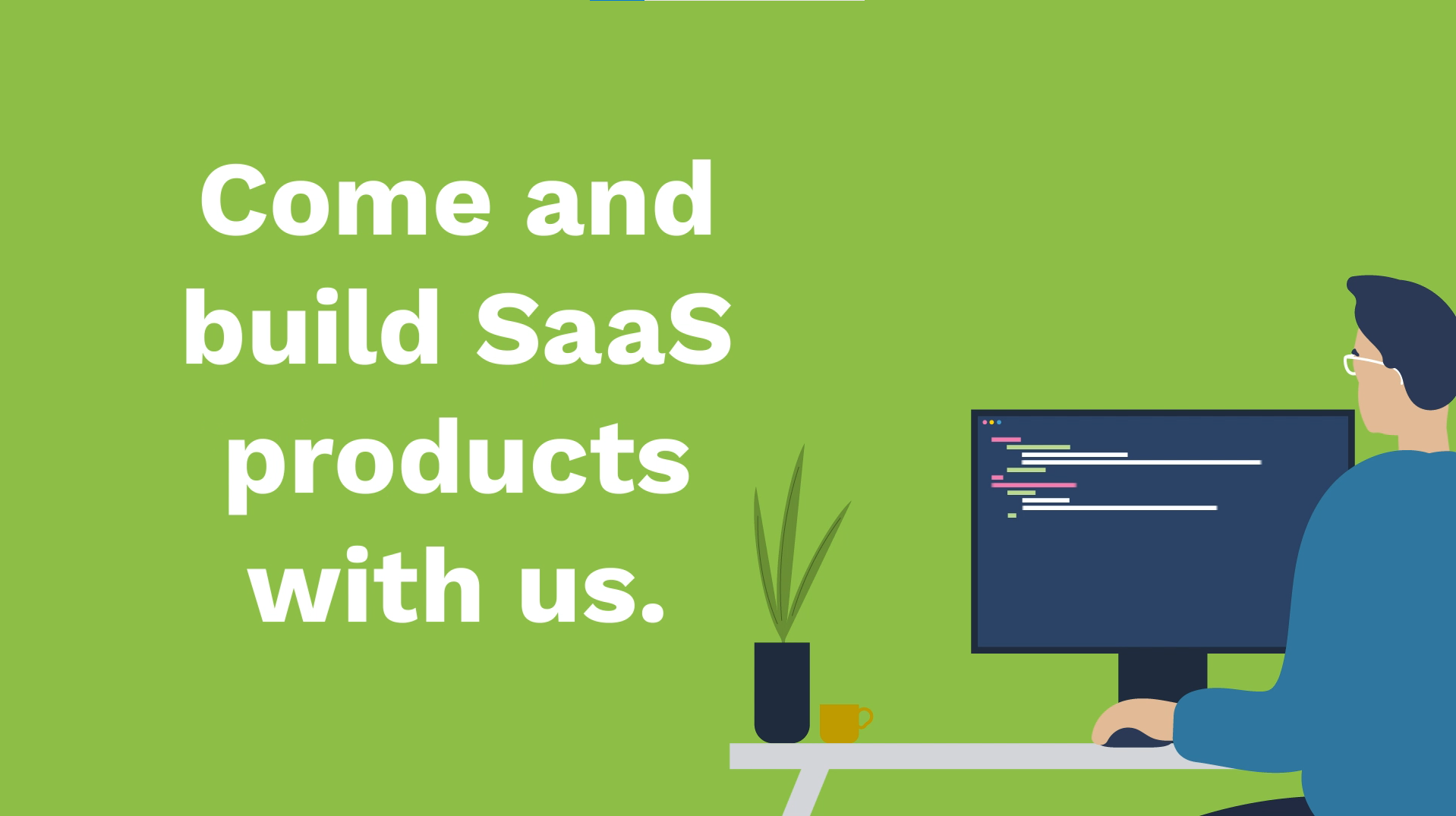 Or, if software development isn't your thing, but you'd still like to work in a digital environment, East Sussex College Group are currently looking for a Press and PR Executive and a Design Officer (closing dates 4th August 2021).

IN THE NEWS

Eastbourne in top two for commuter town growth during pandemic
Those living in Eastbourne and on the coast may have appreciated the benefits of being by the sea for a while, but it's taken a global pandemic to get people moving out of London. With remote working becoming the new norm, there's been an exodus from inner cities.
Eastbourne has experienced growth of 15.9% during the pandemic (based on property prices and sales, job growth, and footfall data) and sits just behind Exeter as the second most positively changed commuter town during COVID-19.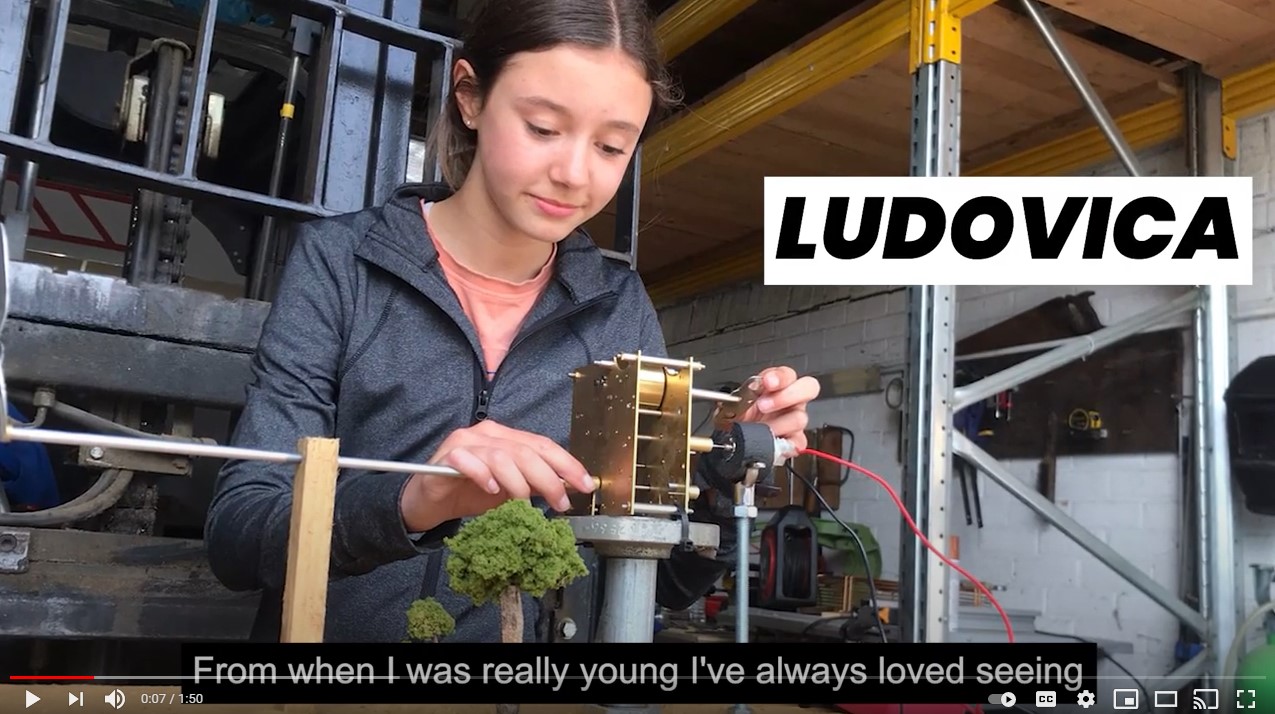 The Big Bang Competition 2021 - update
Last month we reported that Ludovica Knight, a pupil at St Catherine's College here in Eastbourne, had been shortlisted for an engineering prize.
We were pleased to hear the news that she was awarded the winning prize in the Intermediate Engineering category. Well done, Ludovica!
Watch Ludovica's video above to find out more about how she created a model for mechanical energy storage for an African village.

FEATURED PROFILE
We caught up with Richard Jackson, owner of Plume Films to find out more about him and his work.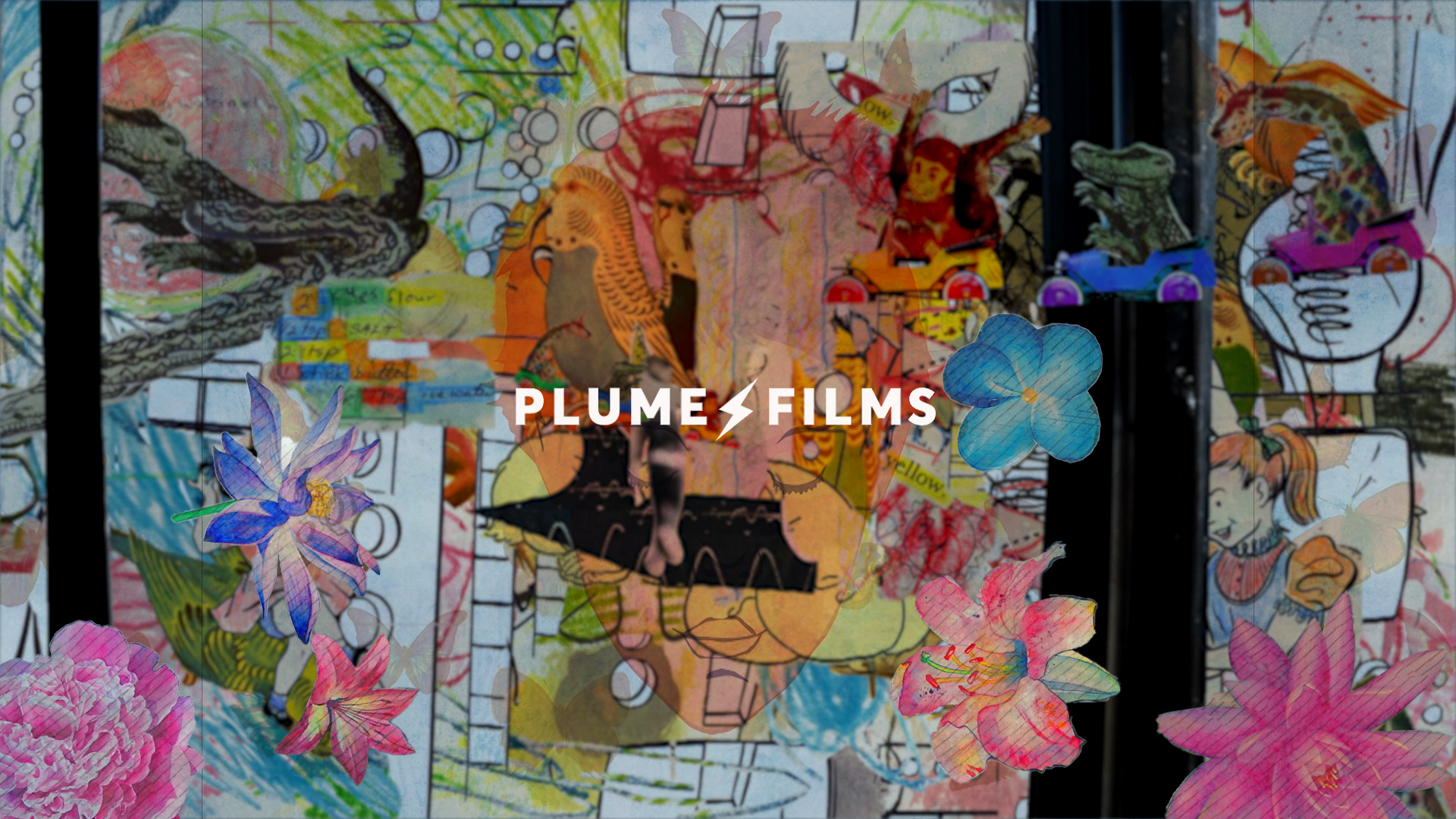 Plume Films and their clients - who are they?
Plume Films is a boutique film and animation company that creates distinctive narrative shorts, branded content and visuals for live performance owned by Richard Jackson. Richard works with a wide variety of clients, including Tate, London School of Arts, Channel 4, UNICEF, the Wall Street Journal, and on live performance work with musicians and performers. During lockdown, Richard worked extensively with a New York-based Black Lives Matter movement, M4BL. He also supports community projects and branding as part of his design arm, Plume Graphics.
His current project is a series of films for the London School of Arts; he has previously created similar films for the Tate bringing stories of art history to life with animation.
Additionally, Richard can be found eating cake when he should be doing odd jobs at Hyde Corner on Grove Road. Hyde Corner is a coffee shop full of beautiful small-press independent magazines that he co-created and renovated throughout lockdown alongside his hospitality-focused partner, with an aim of giving Eastbourne creatives a physical place to visit.
Getting into animation
Although Richard studied Art extensively he didn't get a creative job straight away, but had fun times working in hospitality for several years; through this time he remained passionate about creating art, creating zines and painting huge canvases but, when he moved to France in 2006, found this medium difficult when travelling around a lot, so he taught himself animation.
The rest happened fairly organically; Richard wanted some sound in his animated videos, so he asked friends who were poets for audio files to make short, fun clips. One of these friends, who runs Bang Said The Gun poetry collective in London, teamed up with him to pitch a TV show on Sky Arts, then Richard was picked up by agencies for little jobs, and the rest snowballed.
Like many starting out, the big turning point is when you decide to stop doing things for free and it becomes a job. He has tried to keep his fine art background in his animation style as his career path has developed.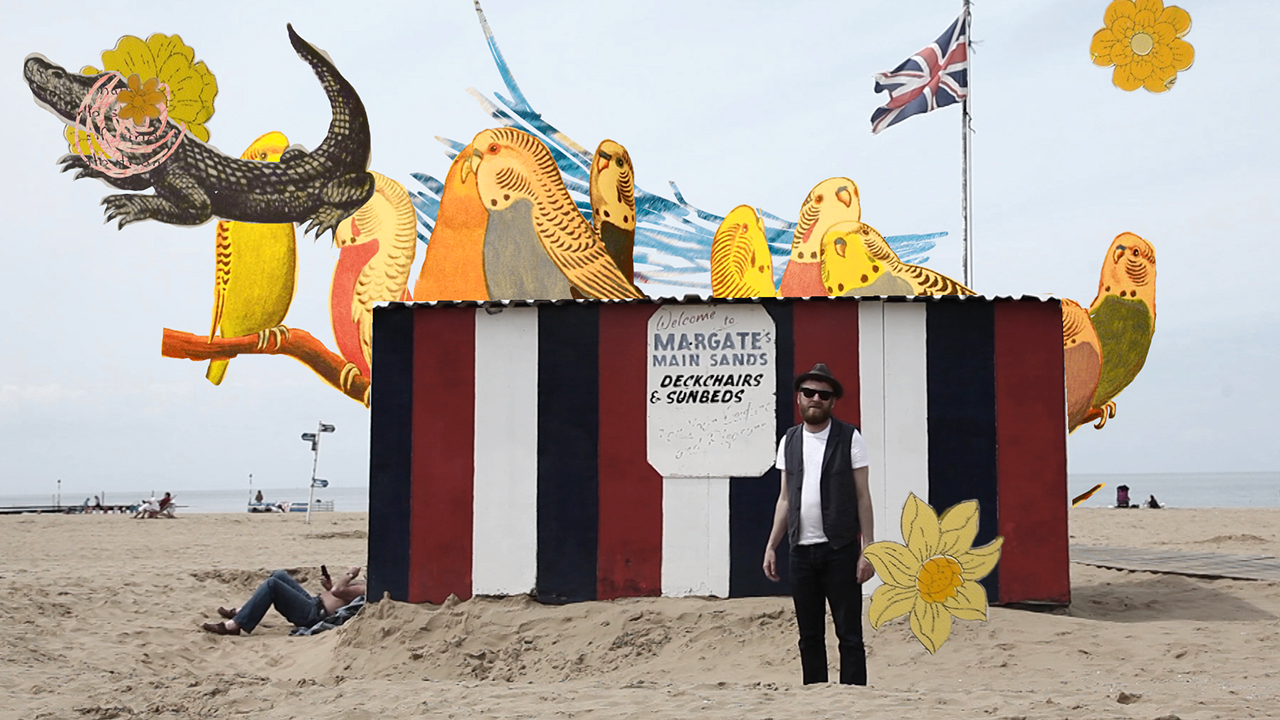 What advice for those trying to start working in animation?
For those looking to get into animation or any creative job, Richard thinks the key is to always be working on something, always creating. If you are pulling pints in a bar - a lot of fun but maybe not where you want to be - remember that you're not taking your work home with you. You can spend time drawing in your sketchbook and doing whatever feels good creatively. Keep moving, keep doing what feels good, and things start to happen.
It's boom time to be getting into animation, as micro-content is huge at the moment, especially with people reinventing themselves as a result of the pandemic. There's a need for plenty of online segments and idents. For example, Richard worked with the Wall Street Journal and their move to online Zoom seminars, creating a lot of the pre-made content.
Even if, like Richard, you have had a gap of years between formal education and becoming a professional creative, you can still have a love of your preferred medium, so visit art galleries and engage in your passion whenever you can. Initially, when starting out, you'll just need to demonstrate you can do it and that you have an angle and a style; further down the line, you'll need to be able to move quickly and under pressure, but you can grow into that. Just find your style first and do what feels good.
WHY EASTBOURNE?
Richard and his family moved to Eastbourne in 2016, after 10 years living in the Alps. In some ways, he finds Eastbourne feels similar, with its wide avenues and the backdrop of the Downs.
Originally from Oxfordshire, Richard and his partner, who grew up in Brighton, loved East and West Sussex and so looked at houses in Worthing and Eastbourne. When they first visited Eastbourne to view their current Old Town house, it was a day of torrential rain, they arrived early and stopped to look at the beach by the Italian Gardens. Despite the weather, it was such a strikingly beautiful scene they were already sold before seeing the house.
Having lived in the town for five years, Richard and his family are enjoying feeling part of the community, this has been expressed just recently by a large Mural Richard has created and painted on the corner of Grove Road and York Road - go check it out!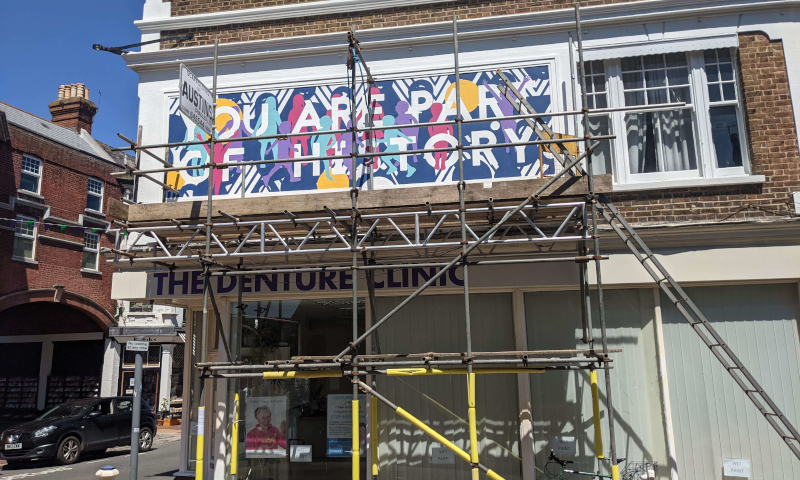 If you'd like your company featured in this section, please click here to book in a chat!

CAREERS

To support one of our aims of Chalk, we've been having some great discussions with careers leaders in a number of local secondary schools and colleges, telling them all about the Chalk initiative and finding out what they are doing at their end to support and inspire young people around digital careers.
A general theme seems to be a growing interest in digital careers, with perhaps an understandable shift away from going to university and instead wanting to learn on the job.
This is therefore a great opportunity to promote the local opportunities available and to provide a better understanding of how students can embark on a digital career.
As a result, we are planning to include a guide to digital careers on the Chalk website (with a view to having this live in September), for careers leaders to signpost students to. We are also hoping to support future educational events aimed at helping young people embark on a career in digital.
There are lots of talented young people locally who, with some nurturing, could be a great asset to the local digital industry - the schools are very appreciative of any support from local businesses to help with this.
If you have careers tips for young people entering your field, please just reply to this email with anything you feel would be useful. We are often asked about placements, apprenticeships, and learning opportunities too, so if you have anything you are able to offer, we'd love to feature information on that on our website.

See you next month for more from Chalk! 👋